For those who desire to be
Technical Artists working in
Virtual Production.
The AIM of this course bundle is to provide you with the latest knowledge and hands-on experience for you to develop the requisite skills from the experts at
Places are limited.
This course will only run once at this price.



East London Institute of Technology
Barking & Dagenham College
East London, Romford RM7 OXU

October 27th & 28th, 2022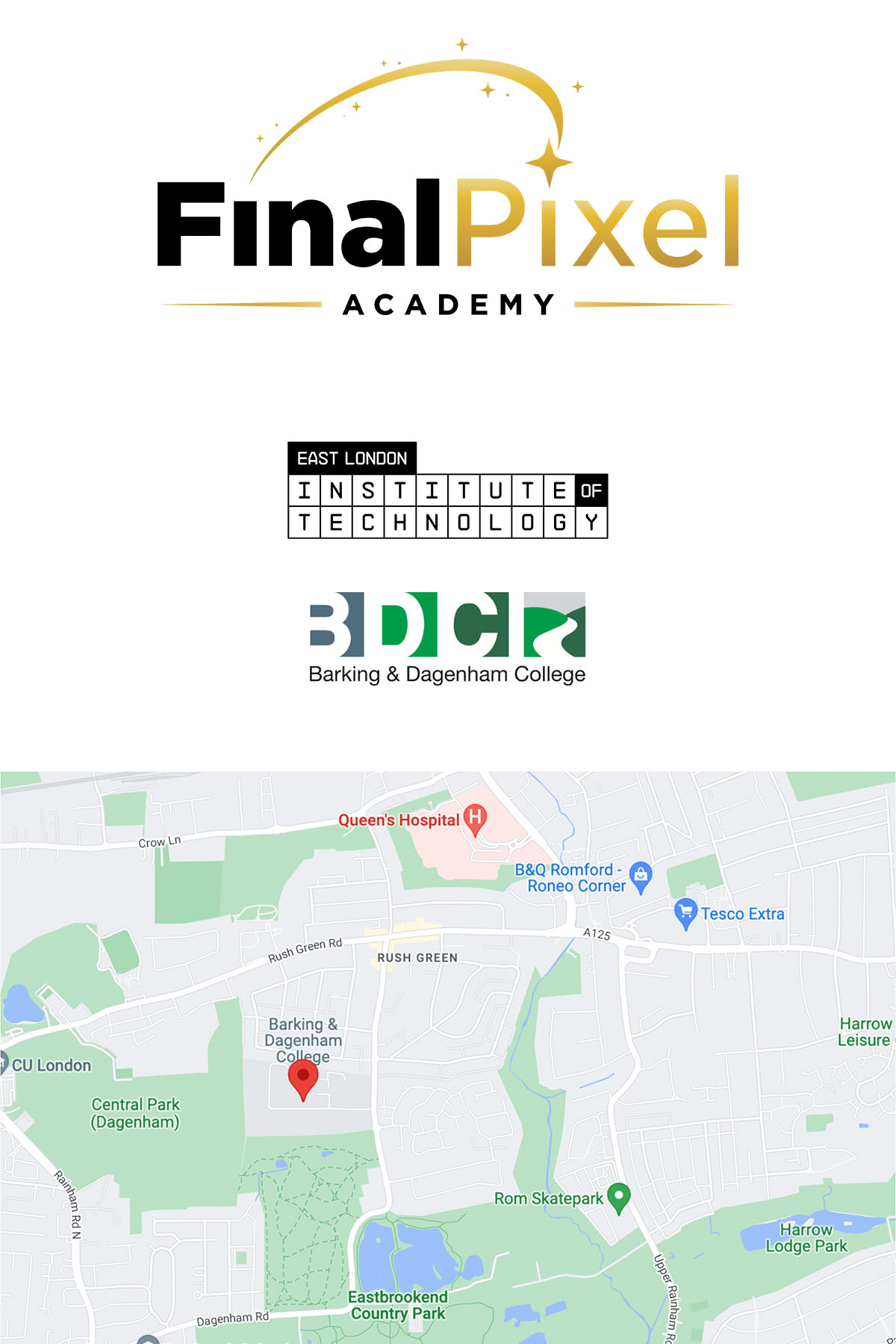 The Pathway that leads to a Technical Artist Role
in Virtual Production

The Unreal Engine Technical Artist (On-set) supports on set Virtual Production to create immersive real-time experiences for content production. These roles will have a thorough understanding of the content creation pipeline in Unreal Engine, VFX pipelines and Virtual Production using LED.
As these can be contract roles, Technical Artists are based both remotely and on-set as necessary for studio days depending upon location.
Key tasks and responsibilities for this pathway are:
Lead operator of Unreal Engine during on-set Virtual Production of content for a range of clients in Advertising, Television and Film
Work with the VFX Supervisor and alongside the Virtual Art Department to create and optimise high quality, real-time models and environments in Unreal Engine optimised for use in Virtual Production with LED and nDisplay
Enhancing model performance and collaborating with artists on modelling and texturing best practices
Troubleshoot and resolve any issues arising with the Unreal projects and nDisplay
Applying lighting techniques in Unreal Engine and communicating with Virtual Art Department artists in lighting best practices and guidelines to ensure environments are real-time ready
Collaborate with programmers to develop and test new features
Write and maintain workflows, processes and tools documentation
Support the VFX Supervisor and wider production team in virtual scouting and technical recces
Experience & Skills needed are:
Proven ability to critically evaluate an Unreal Engine project and recommend or implement changes to improve optimisation of levels
Knowledge of C# and C++

(recommended but not required for the course)

Work independently and effectively under tight deadlines
Work in collaboration with multiple teams, in person and remotely
Strong communication skills
High degree of organisation with attention to detail
A natural problem solver, able to operate effectively in high-pressure situations
Experience setting up and operating Unreal nDisplay and multi-user editing
Experience of working with camera tracking and lens calibration
Film or video production / on set experience
Knowledge of film language

What you will receive:

You will receive exclusive access to our 2 Bonus courses (Technical Artist Level 1 & 2) plus our Technical Artist Level 3 via the Final Pixel Academy Online Training Platform and 2-days of hands-on training in a state-of-the-art LED Volume at the East London Institute of Technology.
You will also gain access to our exclusive Discord Community where you can network and share knowledge with other members and instructors.


You can also choose to take the online courses with or without Instructor-led sessions (see pricing options below).



As a requirement of the Bundle, you will need to complete the online courses (at your own pace) but prior to attending the live on-set days to get the best experiential learning and gain the required knowledge prior to applying it in a Virtual Production environment.

What you will learn:


Technical Artist Level 1 (Bonus Course)
Introduction to Physical Based Rendering (PBR)
Asset Creation, Sourcing and Ingest
Introduction to Lighting
Introduction to Optimisation
Using Blueprints

Technical Artist Level 2 (Bonus Course)
Pre-Production Workflows for Virtual Production
Cameras in Unreal Engine
Image Effects and Colour Correction
Motion Capture & Tracking
Matching Virtual World to Real World
nDisplay
Post Processing and Camera Settings
Real Time using Sequencer
Technical Artist Level 3
Take Recorder
Animation
Special FX
Advanced Optimisation I
Remote Control
Lighting Setup for Interiors
Perforce P4V for Virtual Production
Light Set Up for Interiors
 2 x On-Set Days in a LED Volume
This on-set experience will bring all of your training together in a real-world, hands-on learning environment where you will implement what you have learned to gain a better understanding of Virtual Production workflows and the role of the Technical Artist.
Working alongside our expert trainers at Final Pixel, you will come away, not only with the latest knowledge of how to run a Virtual Production project from the role of the Technical Artist, but also understand the key challenges and problem solving methods that come up in Virtual Productions.



Bonus Bundle Courses

This Course Bundle normally runs over $2,599 per student for both online and on-set training.

This is a special one-time offer for $1059!
(A payment option is available to help spread the costs).

You can also upgrade and choose to add one of our
Unreal Engine Authorised Trainers to weekly Instructor-led sessions (see pricing below).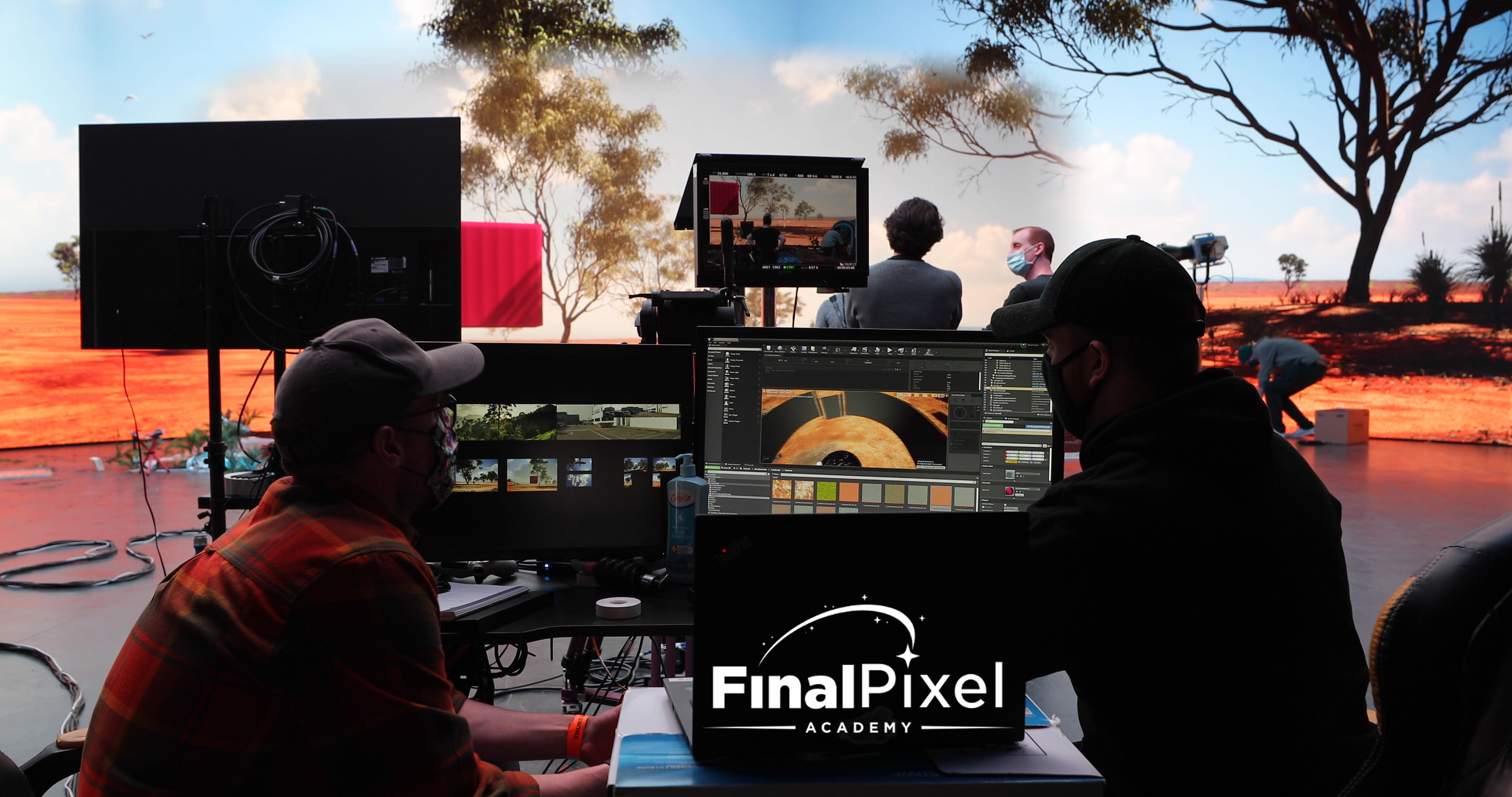 Final Pixel Academy
trains the next generation of VP artists, technicians, producers and directors.


Based on the "workflow learnings and on-set experiences" that Final Pixel has gained during projects for companies including Discovery and Disney/ABC, the academy runs courses at all levels across the entire VP workflow. This will include the creation of Unreal environments optimised for VP and the teaching of skills required of an on-set VP crew.
These training opportunities offer you in-demand, skills-based learning and allows you to future proof your career aspirations across film, television, advertising and broadcast industries.